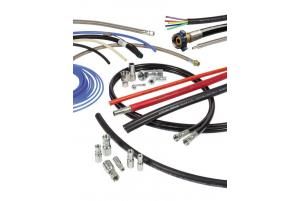 CAT 4900 Parflex Ultra High Pressure Thermoplastic Hose, Fittings and Accessories
Parker Parflex provides the best ultra high pressure hoses and fittings to fill the needs of the market segments that utilize water blast and water jetting technologies. 
Parflex provides the power generation and refining markets with small diameter, low volumetric expansion hoses for tight routing applications, such as high pressure heat exchanger tube cleaning in petro-chemical and power plants.
polyflex hoses are also ideal for construction applications such as hydrodemolition, industrial cleaning and surface preparation.
polyflex hoses are also used in industries where water cutting is utilized — cutting through everything 
from chicken, in the food processing industry, to more industrial mediums like glass and concrete.
polyflex hoses are the highest quality ultra high pressure thermoplastic hoses on the market, and that makes them the best choice for any water blast or water jetting application.
The water jetting icon above indicates hoses that are suitable for these applications.