HYDAC HYDRAULIC ACCUMULATORS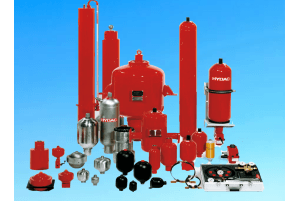 HYDAC Technology GmbH has over 50 years' experience in the research & development, design and production of hydraulic accumulators.
This includes all hydropneumatic accumulators, from bladder accumulators and piston accumulators to diaphragm accumulators and now also the metal bellows accumulators for further fields of application.
Thanks to a continuous expansion of the individual models, an optimised range of accumulators was developed over the years, supplemented by gas- and fluid-side accumulator safeguards such as temperature fuse plugs, burst discs, gas safety valves and additional accessories.

HYDRAULIC ACCUMULATORS - ROBUST AND VERSATILE
Wherever hydraulic tasks need to be performed, HYDAC hydraulic accumulators can help. They are versatile, make your machine more convenient to use, secure your hydraulic system and are used to increase the energy efficiency of hydraulic systems and for many other tasks.
Example applications include:
energy storage,
emergency functions and safety functions,
damping of vibrations, pulsations (pulsation dampers) and shocks (shock absorbers) and noise (silencers),
suction flow stabilisation,
chassis suspension,
volume compensation and leakage compensation,
weight equalisation,
energy recovery, recuperation and also
media separation.

HYDRAULICS IS WHERE THEY FEEL AT HOME
The know-how of our hydraulic specialists covers all four types of accumulator. We will gladly assist you in selecting the right type of accumulator and in determining the suitable accumulator model.
The comprehensive range of HYDAC accessories simplifies installation according to the specification, gas- and fluid-side protection and maintenance.
HYDAC can give you integrated support and expertise provided locally worldwide:
Selecting the right type of accumulator, whether bladder, piston, diaphragm or metal bellows accumulator,
Optimum selection of the suitable accumulator type on the basis of cutting-edge calculation programs and the accumulator simulation,
Matching accessory products and safety equipment from a single source,
Maintenance and repair performed by worldwide HYDAC Service and the local specialist personnel, thanks to worldwide expertise.