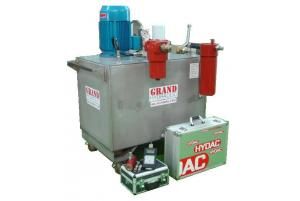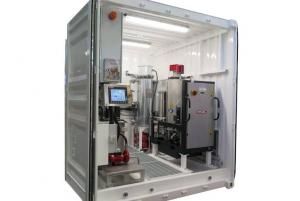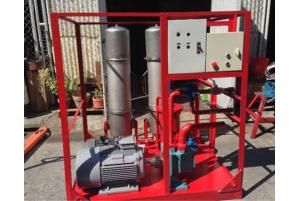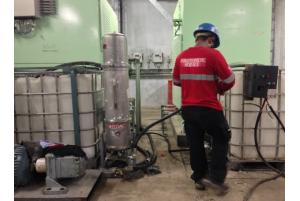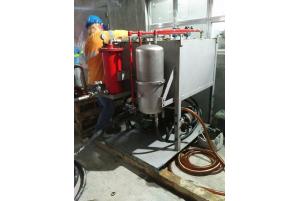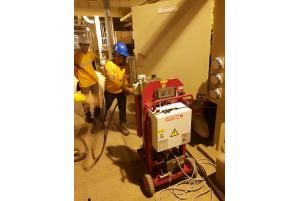 HTI Flushing unit and Filtration Compact Skid Unit
This can be use in conducting System flushing and offline filtration of hydraulic and lubrication system.
To ensure that no presence of particles on piping's, gearboxes cylinders and accumulators.
Technical Specification:
• 60 to 315 L/min Capacity of pump
• 10 to 30 HP of motor
• HYDAC return line filter (1300 series); 2 units OLF 40 with 3-5 microns absolute in depth filters
• Manifold block
• Control valves
In hydraulic fluid power systems, power is transmitted and controlled through a liquid under pressure within an enclosed circuit.  
The initial cleanliness level of a hydraulic system can affect its performance and useful life. Unless removed, particulate contamination present after manufacture and assembly of a system can circulate through the system and cause damage to the system components. To reduce the probability of such damage, the fluid and the internal surfaces of the hydraulic fluid power system need to be flushed clean to a specified level. 
We recommend that you should have such equipment to be used for proper oil conditioning and to reduced downtime of the equipment, with HYDRAUTECHNIK, INC. capability together with Hydac Technology, based on our previous flushing services we attain the  acceptable cleanliness level of any lubrication system.

We thank you for trusting Hydrautechnik, Inc. and giving us the opportunity to help you in your filtration activities. If ever you encounter problems, please don't hesitate to contact us and we will make sure to provide 24/7 after sales service support to you. . We are very much willing to help you anytime in case you need our support in every project that you are planning