HYDAC Bladder Accumulator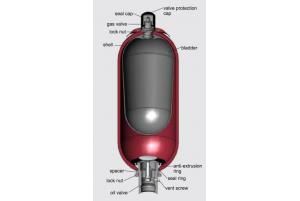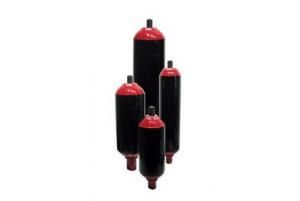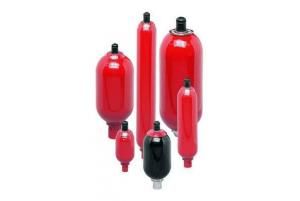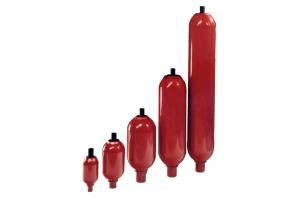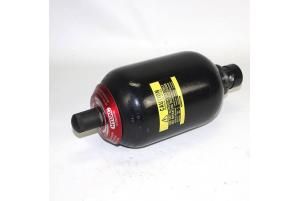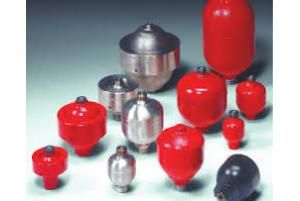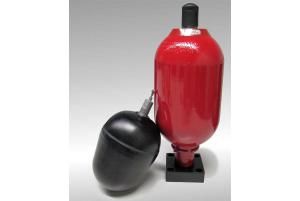 Bladder Accumulator
... are hydropneumatic accumulators with a flexible bladder as a separation element between compressible gas cushion and operating fluid.
HYDAC bladder accumulators consist of a welded or forged pressure vessel, the accumulator bladder and the fittings for the gas- and medium-side connection.
In addition to the standard design, special designs for particular applications are possible, for example for very high discharge speeds and high pressures.
Essential parameters are:
Nominal volume: 0.5 ... 450 l,
Permissible operating pressure: up to 1,000 bar,
Materials for the elastomer: NBR, ECO, IIR, FKM (FPM),
Accumulator shell materials: carbon steel, stainless steel, aluminium, composite materials.

HYDAC bladder accumulators have the following advantages:
High discharge speeds,
No pressure difference between fluid side and gas side,
Compact, low-maintenance,
High charging and discharging frequencies.
ACCUMULATORS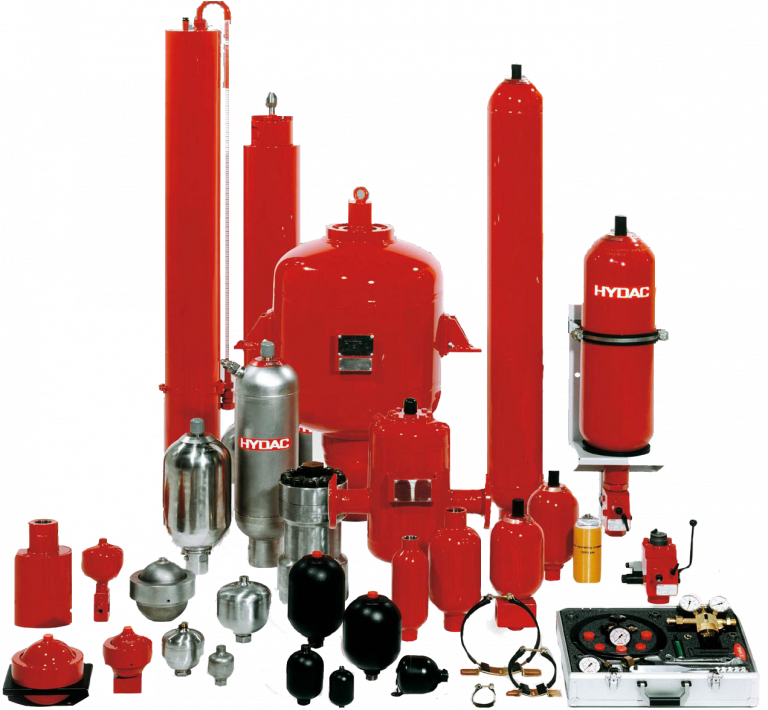 Accumulator Technology
Components and system of all types of hydraulic accumulator, bladder, piston and diaphragm accumulators, hydraulic dampers, silencers - worldwide the most comprehensive accumulator range, providing the best solution for every application drawn from 45 years of experience.
Hydac accumulators are manufactured and supplied with approval certification in accordance with pressure equipment directive and laws of the relevant country.
The Products
Bladder accumulators, Piston accumulator, Diaphragm accumulators, Metal belows acccumulator, Low weight accumulators, Pulsation dampers, Suction flow stabilisers, Silincers, Safety and Shut-off blocks, Charging and testing units, Monitoring of operating conditions, Nitrogen charging units, Mounting elements, Accumulator stations, Accumulator sets.
Typical Applications 
Energy Storage
Volume expansion compensation
Leakage compensation
Maintaining constant pressure
Temperature equalization 
Minimisation of pump
pulsation and pressure shocks
Noise-damping 
Media separation in lubricating system
Weight equalization 
Hybrid application